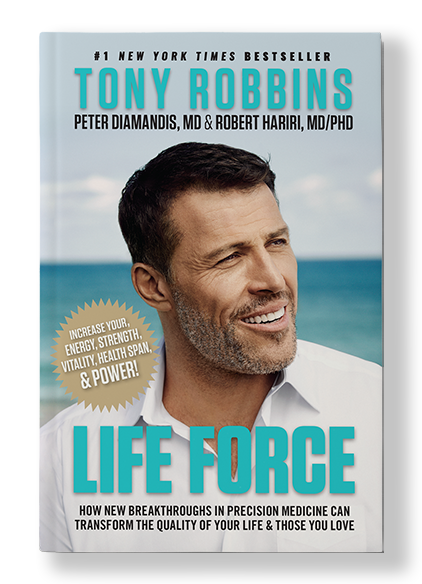 Become a LIFE FORCE Insider
Sign up for our mailing list to access the tools, treatments, and research breakthroughs in Tony Robbins and Peter Diamandis' best-selling book.
Lifeforce.com is a living resource that keeps you up to date with the medical breakthroughs that are changing the world. Now is the time to take the steps to understand how you can increase energy, strength, vitality, healthspan, and power.
Life is better in your peak state. Achieve maximum vitality by joining Tony and Peter on their transformative multi-decade journey to optimum LIFE FORCE.
Receive free gifts, early access and surprise bonuses when you order your copy now.

Tony Robbins gives you access to information that's not readily available. Story after story of medical breakthroughs will inspire you and provide you with effective solutions for greater health, wellness, and quality of life.
Head of Strategy & Innovation, Cleveland Clinic Center for Functional Medicine, fourteen- time bestselling author, internationally respected physician, researcher, educator, and activist
Fountain Life brings together the world's most renowned medical and health experts to boost longevity and performance – putting the health back in health care. We do this by utilizing cutting-edge Artificial Intelligence (AI) to collect data and gain insights into the human body that have never been possible before. As a result, our members operate at peak performance throughout their life, ultimately feeling as healthy and vibrant at 100 as they were at 60. Learn about our innovative health care company at www.fountainlife.com.
Personalized Performance Programs
Lifeforce is the personalized performance tele-health program to accompany Tony and Peter's best selling book.
Access the ingredients in your longevity pharmacy with guided recommendations designed by leading experts from the book.
is an entrepreneur, #1 New York Times bestselling author, and philanthropist honored by Accenture as one of the top 50 business intellectuals in the world. Robbins is a leader called upon by leaders: He has consulted with and/or coached some of the world's greatest athletes, entertainers, Fortune 500 CEOs, and four US presidents. Robbins is a founder, partner, or early investor in 100+ privately held businesses with combined sales exceeding $7 billion annually. Through his philanthropy and partnership with Feeding America, he has provided more than 800 million meals and is on track to provide 1 billion meals by 2025.
is the founder and Executive Chairman of XPRIZE. He has raised more than $250 Million invested into the space industry. Diamandis has degrees in molecular genetics and aerospace engineering from M.I.T. and an M.D. from Harvard Medical School. He is also a New York Times best- selling author and founder of Human Longevity, Inc., Celularity, Inc., and Bold Capital Partners.
We're in an age of exponential change
Stay up to date. This compendium to LIFE FORCE is a free resource for you to keep learning, keep performing, and stay vigilant in the ever-evolving world of precision medicine.
Sign up today to get science-backed updates to transform the quality of your life.
Copyright © 2020. All rights reserved.